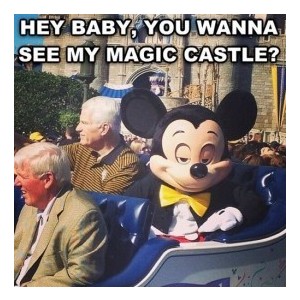 Once upon a year, my husband graduated from college. We planned this big celebration, with a huge party and barbecue followed by a trip to Disney World, which is a very special place from my family's history with Disney and because my husband proposed to me there.

But lo, the Wicked Witch of the West visited a plague on the world, and we all had to sit inside for a year. No graduation, no party, no Disney. 

Now that the world is apparently starting to come back to life, we all got the vaxx, my husband's long-delayed graduation ceremony finally happened, and we finally got to go to Disney World after four reschedulings. Per the request of some of my Patrons, I chronicled each day of our trip as "The Masked Mouse," which turned out to be even more bizarre because the nationwide mask rules abruptly changed halfway through the week.

So that's what ate May! Here's the rest of what I've been up to:
 
Publicity/Appearances
I'm pleased to announce that I'll be returning to Imaginarium this summer! I've been at every Imaginarium from its launch up until last year, and it's always a great time. Jim will not be able to join me due to his new job at the university, but my minions and I will be there (and serving the booze, if allowed!).

The Cuppa Words local author group has a heavy calendar of events this summer, and I'm happy to be joining them after having to take most of last year off and hide. First up is the Melting Pot in Granite City, Ill., taking place on the town square on June 5.

Next I'll be at the Route 66 Art Fair in Edwardsville, Ill. as a solo act, June 12 in the city park beside the library.

The current schedule is:

• Melting Pot with Cuppa Words, Granite City, Ill. June 5
• Route 66 Art Fair, Edwardsville, Ill. June 12
• Imaginarium, Louisville, Ky. July 9-11
• Alton Market, Alton, Ill. (tent.) July 31
• Peach Fest with Cuppa Words, Pere Marquette (tent.) Aug. 8
• Edwardsville Book Fair, Sept. 4
• SPJ National Conference, New Orleans, Sept. 2-5 (tent.)
• Apple Fest with Cuppa Words, Pere Marquette (tent.) Sept. 19
• Archon, Collinsville Ill., Oct. 1-3
• Leclaire Parkfest, Edwardsville, Ill. (tent.) Oct. 17
• ContraKC, Kansas City, Mo. Nov. 5-7

Journalism/Essays
• Highland approves former police chief as city manager (Highland News-Leader)
• Survey shows Highland businesses recovering from pandemic (Highland News-Leader)
• Highland ramps up efforts to help local businesses (Highland News-Leader)
• Highland approves new budget with electric rate increase (Highland News-Leader)
Fiction
• Fiction: A Matter of Honor experiment (Patreon)
• Poem: A Single Tear (Patreon)

Also: Patreon subscribers finally received their annual bonus! The print limited-edition chapbook of Yanaguana went out in May, only two months behind schedule. There are a few extras, and I'll be deciding soon what do with them…

Patreon/Blogs
• Travelogues! At last! (Patreon)
• The Masked Mouse: Preshow (Patreon)
• The Masked Mouse: Arrival Day (Patreon)
• The Masked Mouse: Disney on Wheels (Patreon)
• The Masked Mouse: Eating Around the World (Patreon)
• The Masked Mouse: A Galaxy Far, Far Away (Patreon)
• The (Un)Masked Mouse: "Rest" Day (Patreon)
• The Masked Mouse: Animal House (Patreon)
• The Masked Mouse: Last Call (Patreon)

Photography
Memorial Day: Nashville National Cemetery (Patreon)

It looks like all the other photos this month center around a big castle ruled by a giant rodent! Never fear, I hope to get some good shots in the coming weeks now that the semester is over.

I haven't had the chance to process art photos from Disney yet, but I hope to get to them shortly. Also on the list of potential shoots: the life-size origami at Missouri Botanical Gardens, a possible trip to Marceline, Mo. and a definite trip to Louisville, Ky. As always, the travelogues go to the Patreon first, but will eventually appear at elizabethdonaldphotography.com.